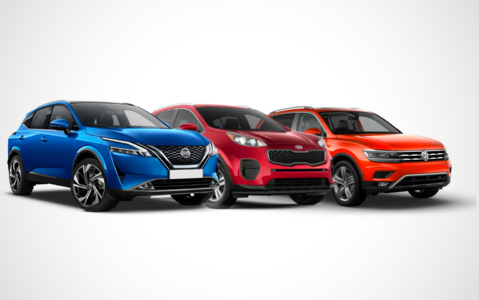 5 Reasons to Choose an SUV
It can't have escaped your notice that cars seem to be getting larger - or rather, Sports Utility Vehicles are getting more popular! SUVs have become a go-to for those looking for a larger vehicle, with many models rivalling the space that an estate has historically provided.
There are some seriously good looking SUVs on the market that are comfortable to drive and perform well, and we're fortunate enough to stock a wide variety here at West Motors. Here are some of the reasons you'll want to consider making an SUV your next used car of choice…
Safety
Thanks to their larger build, sturdy chassis and higher driving position, SUVs can generally take the impact of a collision better than smaller cars, which then reduces the risk to occupants too. Modern SUVs also come with handy safety features, such as lane assist, blind-spot monitoring, and automatic emergency braking. This contributes to their popularity amongst families, for whom safety is especially important.
Practicality
One of the obvious appeals of an SUV is its ability to accommodate life's day-to-day eventualities. The school run, shopping trips, dog walks and family holidays are all taken in an SUV's stride, with plenty of boot space, storage and leg room in many models available on the market. The Mercedes-Benz GLA, Volkswagen Touareg, and Nissan Qashqai are some SUVs with impressively large boots, so if you're often loading luggage, these are some models to consider!
Versatility
Bending to your lifestyle is something that SUVs are more than capable of doing, with good towing capabilities for horse boxes, trailers, caravans and boats, plus plenty of room for equipment such as golf clubs and bikes. The Land Rover Discovery, Skoda Kodiaq and Volkswagen Tiguan are all models that have good towing credentials - and we have these in stock at West Motors!
Comfort
We spend a lot of time in our cars, so comfort is key if you're often on the road. The build quality of many models makes for a smooth ride, with interiors that have been designed to keep everyone on board comfortable even on long journeys - good news if you regularly hit the motorway! If you're a fan of a luxurious leather interior, check out this Jaguar F-Pace.
Fuel efficiency
Despite what you might think, SUV manufacturers have worked hard over the years on the fuel efficiency of their models in order to bring them closer to the economy that a hatchback provides. Some of the SUV models that we have in stock at West Motors are among some of the most economical SUVs on the market, such as the Mitsubishi Outlander PHEV, the Volvo XC60, and the Renault Kadjar.
Find your next SUV in Uxbridge at West Motors
When it comes to finding the right SUV for you, your family and your lifestyle, our knowledgeable team can help. We'll match you with your perfect car, help you understand the finance packages we offer, and prepare the car for your handover to our high standards.
You can get started on the journey to your next SUV on our website, where you can even reserve your next vehicle online, or visit our Uxbridge used car dealership to browse our stock for yourself.